The Marble Inventory of the Early Christian Basilica San Saturnino/Cagliari-Sardinia
The San Saturnino Basilica of Cagliari was built in the fifth century A. D. It is situated in the place where, according to tradition, St. Saturnino was beheaded in 304 AD. The early Christian Basilica is considered one of the most significant of the Mediterranean. It is surrounded by an archaeological park, where excavations have revealed several Roman and Byzantine tombs. Originally following the Greec Cross plan todays San Saturnino consists of the dome covered area from the 5th to 6th century with the nave and two aisles withinin a Paleochristian necropolis.
During the centuries the Church underwent many restorations. In the late seventeenth century the building was partly demolished to recover materials for the restoration of the Cagliari Cathedral. After substantial Allied air-raid damage during the Second World War, extensive renovations and partial rebuilding were necessary. The new Church was re-opened to the public not until 1996.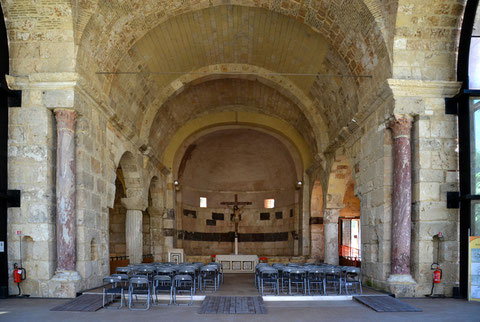 The main construction materials of the church are different local limestones - Pietra Forte and Pietra Cantone - from several quarries in the region. The decorative architectural elements preserved have been imported and comprise a variety of different coloured marbles. The following types of coloured marbles can be found: Rosso Antico (Rosso Brecciato) from Iasos /Asia Minor typically showing a red groundmass and components of white marble and serpentinite. Furthermore black marbles from Lesbos with the typical thick shells of Upper Cretaceous bivalve mollusk (hippuritidae) and marbles from Carystum – the "Cipollino" from Euboea - were used. White marble used for columns and capitals is rather finegrained, very white and homogenous and exhibits advanced damage due to "crystal sugar corrosion"
Effects of weathering and deterioration
Especially the white marble in San Saturnino is affected by advanced deterioration due to "crystal sugar corrosion". In the case of the columns the fluting is almost totally decayed and weathered. Also the white Carrara bases of the columns are heavily corroded.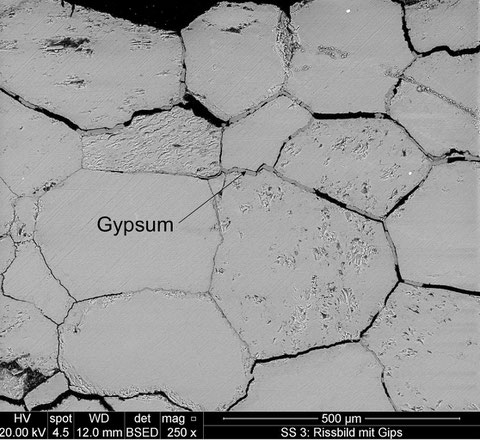 SEM image of the marble surface of the columns. Due to gypsum crystallization the grain boundaries of the calcites are widened